* Child (ages 0–9)
US side only (no Visa required). Buy 2 Get 1 FREE on sharing one room. Limited 3–4 people in one room.
Available: Mon, Sat
Transportation as per itinerary via deluxe motorcoach or minibus.

Passenger insurance while on board motorcoach.

Hotel accommodation which based on two adults sharing one bed room. (Double, Triple, Quad occupancy), excluding child fare.


Child rates apply to those 0-9 years and using existing bedding with 2 full-paying passengers (regardless of ages). Please bring car seats with you for your infants during the tour..



Tour taxes, Travel insurance and all charges arriving from deviation.

Admission packages or passes to attractions.

Personal charges such as travel document and visa fees.

Baggage handing fees, phone calls,
room service, movies etc.
Meals (breakfast, lunch, dinner) and
tips for waiters or waitresses.
Service fees for your tour guide and bus driver (total

$9

/day per passenger)

Holiday/Weekend Hotel surcharges may apply.
| | | | | |
| --- | --- | --- | --- | --- |
| | | Adult | Child | |
| Maid of the Mist | | $19.00 | $12.00 | |
| IMAX | | $12.00 | $8.00 | |
| Night Tour (Mandatory) | | $6.00 | $6.00 | |
| Indian Show | | $20.00 | $13.00 | |
| Thousand Island Boat | | $27.00 | $15.00 | |
Single price is for one people staying in one room. Double, Triple & Quad prices are for two people , three people & four people staying in one room respectively.

Child rates apply to ages 0-9, please note each hotel room can only accommodate 4 guests (adults or children). Each guest rooms are standard with "two" full sizes or "one" queen bed.
All customers should be responsible for their own travel documents and visa if required.
All hotel and tour schedules are arranged before hand. Any person failing to appear on the day of departure shall not be refunded.
Other tour company's product or on line tickets (Admissions or Entrance fees) are not to combine with our already low cost tour package.
Customers are advise to purchase travel insurances before departure of their tours. Please ask one of our specialists for more information.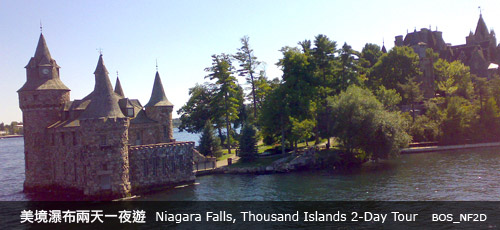 Srikanth 10/07/2014
How but 2 get 2 works? do I need to select 2 persons at check out or 4?
Reply From Admin: 10/14/2014
Right now only buy 2 get 1 free.
Aimee 02/13/2012
My siblings and I would like to join this tour but we would be coming from Toronto on the 9th of April. We plan to see the Canadian side of Niagara first so I'm afraid we will only be able to avail of the accommodations, the Day-2 Niagara activities, and the trip back to Boston on April 10. Considering these, will you allow us to join and at the same time, adjust the price accordingly? Thanks.
Reply From Admin: 02/17/2012
You can join the tour at 04/10 in Niagara Falls U.S. side, but the price will be the same because we have to leave 2 seats for you back to Boston and can't sell to others.
Michela Deleidi 09/23/2010
Dear Sir/Madam, I was just wondering whether this tour includes the visit of the canadian side of the falls. if not, would it be possible to visit the the canadian side at our expenses. Best, Michela
Reply From Admin: 09/24/2010
Hi Michela, yes you may visit the canadian side of the falls on your own, however, this applies only if the tour stays in hotels near Niagara Falls. We may not have hotels available near the falls all the time. Also, you will need your visa and passport to pass the U.S./Canadian boarder. The best choice for you is join our Toronto, Niagara Falls & Thousand Islands 3-Day Tour. You will enjoy the entire Canadian side of the Niagara Falls during this 3-day tour. Hope this helps. Thank you.
sonny 04/22/2010
is there a free parking at the quincy market?
Reply From Admin: 04/22/2010
Quincy Market is a tourist area of downtown Boston, no parking over there, but the starting point of this tour, you can park in: 219 Quincy Ave. Quincy, MA (President Plaza with free parking). and it start at 6:00AM.

1

You may have a question about this tour that has been answered. Check out our Q&A section below or FAQ for more information.