* Child (ages 0–9) .
Buy 2 Get the 3rd FREE. The free person's portion of $115 for staying at LA hotels and theme park (if applicable) admission fees has been included. No-show (or late cancellation) of free passenger incurs $388 penalty fee for the reserved bus seat.
Available: Daily
Transportation as per itinerary via deluxe motorcoach or minibus.

Passenger insurance while on board motorcoach.

Hotel accommodation which based on two adults sharing one bed room. (Double, Triple, Quad occupancy), excluding child fare.


Child rates apply to those 0-9 years and using existing bedding with 2 full-paying passengers (regardless of ages). Please bring car seats with you for your infants during the tour.



Complimentary roundtrip airport transfers (domestic arrivals: 8:30am - 10:30pm; international arrivals: 8:30am - 9:30pm). If arriving from 10:30pm - 12:00am, there will be a fee of $60 for one person and $10 for each additional person(up to 8 person). If arriving beyond the above period, please proceed to the hotel at your own expense.
Tour taxes, Travel insurance and all charges arriving from deviation.

Admission packages or passes to attractions.

Personal charges such as travel document and visa fees.

Baggage handing fees, phone calls,
room service, movies etc.
Meals (breakfast, lunch, dinner) and
tips for waiters or waitresses.

Service fee for Escort/Tour Guide and Driver:

$8 per person/per day.

Holiday/Weekend Hotel surcharges may apply.
| | | | | |
| --- | --- | --- | --- | --- |
| | | Adult | Child | |
| Hearst Castle | | $25.00 | $12.00 | |
| San Francisco Bay Cruise | | $29.00 | $26.00 | |
| San Francisco City Tour | | $25.00 | $25.00 | |
| Las Vegas night tour | | $25.00 | $25.00 | |
| Las Vegas show ticket | | $80.00 | | |
| | | | | |
Single price is for one people staying in one room. Double, Triple & Quad prices are for two people , three people & four people staying in one room respectively.

Child rates apply to ages 0-9, please note each hotel room can only accommodate 4 guests (adults or children). Each guest rooms are standard with "two" full sizes or "one" queen bed.
All customers should be responsible for their own travel documents and visa if required.
All hotel and tour schedules are arranged before hand. Any person failing to appear on the day of departure shall not be refunded.
Other tour company's product or on line tickets (Admissions or Entrance fees) are not to combine with our already low cost tour package.
Customers are advise to purchase travel insurances before departure of their tours. Please ask one of our specialists for more information.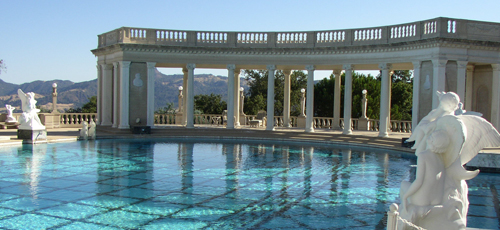 West Coast Essence 8-Day Tour (B)
[LAX_SFYN8DB_SG2]
Arrival in Los Angeles airport and meet our tour guide at the Baggage Claim Area (for U.S domestic flights) or at Exit (for international flights). Transfer to the hotel for check in.
Hotel: Best Value Inn, El Monte or Similar
Disneyland (Daily arrival):
Today we will visit Disneyland!
OR San Diego - SeaWorld (Daily arrival):
Depart from Los Angeles to San Diego downtown in the morning. There's optional cruise. The tour will reach Sea World at around noon.
OR Universal Studios (Daily arrival ):
The tour will visit Mann's Chinese Theatre. Then take a stroll on the Walk of Fame. After Hollywood, head straight to Universal Studios.
OR Los Angeles City Tour (Daily arrival)
Morning departure for California's most attractive coastal city of Santa Monica. Continue west along Interstate 405 near you can see: endless stretches of Santa Monica Mountains cliff, stands a group of strange buildings. This is the prestigious Getty Center in Los Angeles. Followed through outstanding people of the renowned universities in the University of California at Los Angeles UCLA. Go to Beverly Hills. While visiting the trip to the city of Lodi Europe Avenue is the world's tourists are most interested in one of the activities. Shoppes shopping here to mainly contains the most expensive stores in Southern California. A trip to Los Angeles city-EL PUEBLO DE LOS ANGELES HISTORIC MONUMENT. Olive Street is the oldest shortest streets. Do not go to Mexico. In this street you can enjoy authentic Mexican food, buy a traditional Mexican products.
OR Palm Spring Desert Hills Premium Outlet Tour (Daily arrival)
In the morning, take about one half hour to get to Desert Hill Factory Outlets. If you are not interested in shopping, you can take the cable car in Palm Spring to head over to the top of the San Jacinto hill. Arrive back at around 6:30 p.m.

If someone in your group is not interested in shopping, we can take him/ her to the nearby Morongo Casino and pick up on the return trip as well.
Hotel: Best Value Inn, El Monte or Similar
Day 3 Los Angeles – Santa Barbara - Solvang - San Francisco
Depart from Los Angeles in the morning and drive along the beautiful Pacific-Coast Highway. Arrive at Santa Barbara, known as the "American Riviera". Afterwards, arrive at Denmark Village - Solvang around noon. The group will arrive in San Francisco in the evening.
Santa Barbara, CA
Known as the "American Riviera", Santa Barbara is a year-round tourist destination renowned for its fair weather, downtown beaches, and Spanish architecture. Casual and friendly, Santa Barbara offers an extensive menu of culture out of proportion to the city's small size.
Solvang, CA
Antiquated windmills and Northern Europeans-style architecture punctuate the little village's skyline. Brilliant sunshine, boundless open country and rolling hills- these are the characteristics of what the original Danish immigrants called "Solvang" or "Sunny Field".
Hotel: Crown Plaza or Similar
Day 4 San Francisco - Stanford University
This morning, the tour will head to San Francisco's popular Chinatown for passengers to enjoy breakfast. After our meal, we'll explore San Francisco, the beautiful City by the Bay! Our tour will visit the stately Palace of Fine Arts; the world famous Golden Gate Bridge; Lombard Street, Fishermen's Wharf. Passengers may also choose to take a one and a half hour Bay Cruise* to experience the sights of San Francisco from the water, with views of the East Bay and beautiful city skyline, the stately Golden Gate and Bay Bridges, and the harbor islands, including the infamous Alcatraz Island, Angel Island and Treasure Island. Around 3:00pm, passengers may choose to spend some time at leisure in the city, or have the option of the Extensive City Tour* to visit sights such as St. Mary's Cathedral, the principal Catholic church of San Francisco; Alamo Square; Twin Peaks; the Civic Center; and the Castro District, otherwise known as the gay capital of the world. After the tour concludes at approximately 5:15 p.m., we will make a trip to Stanford University, just before 7:00 p.m., we will return to the city for dinner and a night's rest at our hotel.
Hotel: Days Inn or Similar
Day 5
Yosemite National Park – Los Angeles
In the morning, you will visit California's best-known Yosemite National Park, one of the wonders of Nature. Yosemite is located near the geographical center of the Nevada mountain range. Towering granite rocks, mighty waterfalls and placid valleys give Yosemite all the aspects of a "land of the gods" Giant trees, water gushing from the mountains, huge rocks and cliffs carved to create a land of fantasy. There is little doubt that water – in both its liquid and solid form – was the chief architect of Yosemite's landscapes. Proceed to Los Angeles in the afternoon. We may stop by Barstow for a short rest before continuing to Los Angeles. Arrive in Los Angeles in the evening.
Hotel: Best Value Inn, El Monte or Similar
Day 6
Los Angeles – Las Vegas
Start the tour following the route of San Bernardino Mountain and enter to Mojave Desert to lunch at Barstow. After Lunch, we will visit the London Bridge at Lake Havasu City. All materials of this bridge were originally from London. This is the reason for its name and fame. Proceed to Laughlin, Nevada in the evening, which serves a mixture of tantalizing entertainment and gambling.
Hotel: Stratosphere Hotel or Similar
Day 7
Las Vegas – Grand Canyon – Las Vegas
In the morning, proceed to one of the Seven Wonders of the World, Grand Canyon National Park. The Grand Canyon is much greater both in size and beauty contrary to general misconception. In the afternoon, continue to Las Vegas, "the entertainment capital of the world". You may take an optional night tour to explore the prosperity of night life in Las Vegas or try your luck in casinos.
Hotel: Stratosphere Hotel
Day 8
Las Vegas–Ethel M Chocolate Factory–Botanical Cactus Gardens–Los Angeles
Visit Ethel M Chocolate Factory and Botanical Cactus Gardens before leaving Las Vegas. Stop by Barstow for short rest before continuing to Los Angeles. Arrive in Los Angeles in the evening for a wonderful conclusion of the trip.
Please schedule your flights to depart from Los Angeles airport after 9:30p.m (for U.S domestic flights) or 10:30p.m (for international flights) on the last day of your tour. Thank you!