* Child (ages 2–9)
Available: Wed
Transportation as per itinerary via deluxe motorcoach or minibus.

Passenger insurance while on board motorcoach.

Hotel accommodation which based on two adults sharing one bed room. (Double, Triple occupancy), excluding child fare.


Due to Motorcoach Insurance Policy, passengers over 3 years of age must purchase ticket in order to occupy seats.



Tour guide: Chinese speaking tour guide only.
Tour taxes, Travel insurance and all charges arriving from deviation.

Admission packages or passes to attractions.

Personal charges such as travel document and visa fees.

Baggage handing fees, phone calls,
room service, movies etc.
Meals (breakfast, lunch, dinner) and
tips for waiters or waitresses.

Tipping for Escort/Tour Guide and Driver: Children and Adults apply: it is suggested to each passenger to pay gratuity (tips) for Escort/Tour Guide and Driver for the courteous service provided on the tour. It is recommended that a minimum of

€5 per person/per day (€2.5 for Escort/Tour Guide, €2.5 for driver).

Holiday/Weekend Hotel surcharges may apply.
Adult


Amsterdam Canal Cruise
€ 8.00
Le Louver Museum
€ 9.00
Chateau de Versailles
€15.00
Eiffel Tower top Floor
€11.50
River Seine Cruise
€ 9.00
Pork Knuckle Menu with
Beer
€20.00
Single price is for one people staying in one room. Double, Triple prices are for two people , three people staying in one room respectively.

Child rates apply to ages 2-9, please note each hotel room can only accommodate

3

guests (adults or children). Each guest rooms are standard with "two" full sizes or "one" queen bed.
All customers should be responsible for their own travel documents and visa if required.
All hotel and tour schedules are arranged before hand. Any person failing to appear on the day of departure shall not be refunded.
Other tour company's product or on line tickets (Admissions or Entrance fees) are not to combine with our already low cost tour package.
Customers are advise to purchase travel insurances before departure of their tours. Please ask one of our specialists for more information.


Please do not book any airline tickets until you receive the status of your booking.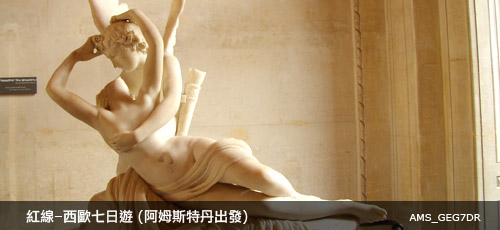 RL - Western Europe 7 Days - From Amsterdam
Day 1
Wednesday: Amsterdam - Brussels - Paris (500 km)
Our day begins with a bus ride to Brussels, the Belgian capital. Before arriving, we will stop for a photo at the Atomium, monument of the first World Fair after the WW II, took place in Brussels in 1958. Then drive to the city centre, enjoy an orientation at the beautiful Grand' Place and the Mannenken Pis. Later, we drive to the most splendid city - Paris. Overnight in Paris or nearby.
Day 2
Thursday: Paris - Versailles - Paris
Today we will enjoy the sightseeings including the Arc de Triomphe, drive along the Champs Elysees to the Place de la Concorde, where the royal and many aristocracy members were guillotined during the Revolution. Then drive up to the Hotel des Invalides, where the Tombean de Napoleon 1 er was located. Later, we will feature the ascent of the Eiffel Tower, and a relaxing scenic Seine Cruise featuring such highlights as Notre Dame Cathedral and Pont Alexandre III . After this, the bus will take us to visit the glorious Palace of Versailles, which was built as a hunting lodge by Louis XIII, then developed to a majority and took over full royal power by Louis XIV. It remained the residence of the royal family since 1722 until the Revolution of 1789. Then transfer to the hotel for overnight after dinner. Overnight in Paris or nearby (if clients interested in visiting the splendid Paris or Seine Cruise after dinner, our tour guide would be pleased to arrange it for you)
Our morning visit is one of the world's greatest art museum Louvres. Enjoy the sight of Venus de Milo, Winged Victory of Samothrace (also called Nike of Samothrace) and the most famous work by Leonardo da Vinci - Mona Lisa. After this, the bus will transfer us to Place d' Italie for lunch. After lunch the tour guide will take the group to enjoy a ride with the Paris underground metro. Group free at leisure and shopping near Opera. After dinner, meet with tour guide and be transfered to the Hotel. Overnight in Paris or nearby.
Day 4
Saturday: Paris - Reims - Luxembourg (420 km)
This morning we will take our journey along the beautiful countryside to Reims, which is the capital of Champagne. It's an old province of France made word famous by its Champagne sparkling wine. Reims played a very important role in French history, as it was the place where the kings of France were crowned since the 11th century, because of this, the Cathedral of Reims became the most important heritage here. Later, we will to to Luxembourg, the only remained Grand Duchy. After arrive, enjoy the orientation at the Place de Constitution, the canyon in the city and Pont Adophe. Overnight in Luxembourg or nearby city.
Day 5
Sunday: Luxembourg - Trier - Koblenz - Frankfurt (400 km)
Today our first visit is Trier, German's oldest city which has been named as "Second Rome" since Constantine the great has administrated this area for 10 years. The best known from our orientation is the Porta Nigra, the best-preserved Roman city gate located in the north of Alps, also the birthplace of the influential philosopher Karl Marx. The Karl Mars Haus was situated in the house where he was born. After this, we will go to Koblenz, the confluence of the Rhine and the Mosel. We will have lunch in this famous scenic place, and why not take the cruise along the Rhine, to spend your precious moment with your family and friends? After lunch, the bus will takes us to Frankfurt with a stop in Rudesheim. After we arrive in Frankfurt, enjoy our orientation Romer platz. Overnight in Frankfurt or nearby city.
Day 6
Monday: Frankfurt - Bonn - Cologne - Amsterdam (500 km)
Today we will be transferred ahead to Bonn, the capital of "West Germany" from the year 1949 to 1990. Enjoy our orientation to the historic Town Hall, Ludwig Van Beethoven Haus. After this, the bus will take us to Cologne, visit the Cologne Cathedral, the most famous heritage in this city, and the shopping area will be another attraction to you. After lunch, we will proceed to Amsterdam. Overnight in Amsterdam or nearby city.
www.tulipinnamsterdamriverside.nl
Day 7
Tuesday: Amsterdam - The Hague - Amsterdam
Today we enjoy our morning sightseeing tour to The Hague, visiting the Peace Palace where the International Court of Justice is located. Peace Palace was built between the year 1907 to 1913. After this, we will see the most popular Dutch seaside resort - Scheveningen. Next we will step off the bus for a countryside excursion to the village of Zaanse Schans, where we will visit the Wooden Shoes Factory, Cheese Farm and stop for photos at the typical windmills which was one of the most important and historic architectures since The Netherlands started to establish their country. After get back to the city centre, we will visit the famous diamond factory which has been famous for its high technique since the 16th century. Then it's the time for you to relax or taking a Canal Cruise may be a good idea to spend your evening before dinner and finish 7-day tour.