* Child (ages 0–9)
Buy 2 Get 2 FREE on sharing one room. Limited 3–4 people in one room.
Available: Tue, Fri
Transportation as per itinerary via deluxe motorcoach or minibus.

Passenger insurance while on board motorcoach.

Hotel accommodation which based on two adults sharing one bed room. (Double, Triple, Quad occupancy), excluding child fare.


Child rates apply to those 0-9 years and using existing bedding with 2 full-paying passengers (regardless of ages). Please bring car seats with you for your infants during the tour.



Airport pick up between 8:30 a.m. - 10:00 p.m. (Additional charge for transfers if arriving beyond the above period - $120/way based on 2ppl and below, and $10 more will be charged for each additional ppl)
Tour taxes, Travel insurance and all charges arriving from deviation.

Admission packages or passes to attractions.

Personal charges such as travel document and visa fees.

Baggage handing fees, phone calls,
room service, movies etc.
Meals (breakfast, lunch, dinner) and
tips for waiters or waitresses.

Service fee for Escort/Tour Guide and Driver:

$8 per person/per day.

Holiday/Weekend Hotel surcharges may apply.
| | | | | |
| --- | --- | --- | --- | --- |
| | | Adult | Child | |
| Empire State Building | | $29.00 | $23.00 | |
| New York City Circle Line | | $29.00 | $20.00 | |
| USS Intrepid | | $24.00 | $19.00 | |
| Maid of the Mist | | $17.00 | $10.00 | |
| IMAX | | $12.00 | $8.00 | |
| Corning Glass Center | | $16.00 | FREE | |
Single price is for one people staying in one room. Double, Triple & Quad prices are for two people , three people & four people staying in one room respectively.

Child rates apply to ages 0-9, please note each hotel room can only accommodate 4 guests (adults or children). Each guest rooms are standard with "two" full sizes or "one" queen bed.
All customers should be responsible for their own travel documents and visa if required.
All hotel and tour schedules are arranged before hand. Any person failing to appear on the day of departure shall not be refunded.
Other tour company's product or on line tickets (Admissions or Entrance fees) are not to combine with our already low cost tour package.
Customers are advise to purchase travel insurances before departure of their tours. Please ask one of our specialists for more information.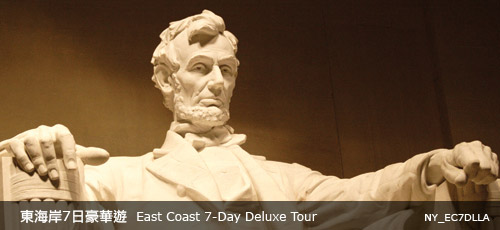 East Coast 7-Day Deluxe Tour
[NY_EC7DLLA]
Day 1
Hometown - New York City
Your vacation begin. Arrival in New York from Hometown, our tour guide will meet you at the airport (Baggage Claim Area) and transfer to hotel.
Please arrive in EWR-suggested, JFK or LGA airport.
Pick-up service for JFK, LGA and EWR airports. For the best service, please choose EWR (Newark Liberty International Airport).
NYC night tour available only arrivals before 5 PM for an additional $25 fee (optional).
There is an exciting night tour of New York City (optional) where you can experience the bright lights of the big city. You can see all of the wonderful NYC landmarks like never before in the beautiful night sky. The tour will take you to the South Street Seaport to enjoy the spectacular views of the NYC bridges at night. You will also see Midtown Manhattan which is the largest central business district in the world and is home to the NYCs tallest and most famous buildings like the Empire State Building and the Chrysler Building. The tour will also take you to see the world famous Rockefeller Center, an art deco marvel covering 11 acres in midtown Manhattan and home to NBC studios, an outdoor ice skating rink (winter), and Prometheus. Then you will visit Times Square and Broadway which is known as the Theater District or the Great White Way. Overnight in Newark, NJ (Sheraton, Radisson Hotel or Similar)
Hotel: Sheraton Hotel, Marriott, Renaissance or similar
Day 2
New York - Option Tours
You can chose one of the Option Tours below on today:
Our tour begins in New York, where guests will board transportation for Atlantic City. Famous for its boardwalk, casino gambling, sandy beaches, shopping centers, view of the Atlantic Ocean, and serving as the inspiration for the board game Monopoly, Atlantic City is a fun and hip getaway destination. Guests can try their luck at one of 11 casinos located in the area, or walk along its charming Boardwalk, filled with shops and restaurants. Casinos may provide complimentary meal coupons and match play bonuses, providing even more value and chances to win! (Request all guests be over the age of 21). Afterward, guests will board transportation for the hotel or continue on a city night tour of New York, to see why this is the city that never sleeps (optional).
Option B:
Self Guided New York City Tour
Guest can spend the day on self guided tours of New York. Your tour leader will provide drop off service in the morning in downtown New York. From there, the day is yours to explore. Guests can visit Times Square, the heart of the city's theater district to take in a Broadway show or stroll along the tree lined walks of Central Park. You can blend in among the fast moving crowds in Grand Central Terminal, or tour the vibrant galleries in Soho. Pretend to be a local, and board the various subways traveling under the city, or book a helicopter tour of Manhattan. Truly, there are many options to experience New York. At 7 pm, guests will return to our tour office to board transportation for the hotel or continue on a city night tour, to see why this is the city that never sleeps (optional).
Option C:
New York - Woodbury Common - West Point Academy
In the morning, we will head to Woodbury Common Premium Outlet. One of the largest contiguous outlet centers in the world, the shopping centers features 220 brand name stores such as Coach, Gap, J. Crew, Jimmy Choo, Polo Ralph Lauren, Versace, and Armani Exchange. What's more, visitors can take advantage of everyday savings of 25 to 65 percent. From there, the tour continues to the United States Military Academy at West Point. The academy sits on scenic high ground overlooking the Hudson River and the entire central campus is a national landmark and home to scores of historic sites, buildings, and monuments. The school has produce numerous successful graduates, including Presidents Ulysses S. Grant and Dwight D. Eisenhower. In the evening, the tour will return to New York for a city night tour (optional), where you can truly experience the city that never sleeps. The city is truly different at night, offering glimpses of a bustling nightlife.
Hotel: Sheraton Hotel, Marriott, Renaissance or similar
The bus tour begins with a New York City tour of the Big Apple where you will tour Chinatown; the largest in the United States. You will also tour the heart of the financial district at Wall Street where you can also see the world famous bronze charging bull; the unofficial symbol of the financial district. The tour also takes you to Ground Zero where you can pay your respects to the events from Sept. 11, 2001. The tour continues through downtown NYC with a visit to the South Street Seaport; a historic landmark that offers dining, museums, and a shopping mall at Pier 17. It also features amazing views of the East River and the Brooklyn Bridge. You will also visit the world famous Empire State Building; a 102-story Art Deco skyscraper which is the tallest building in New York City. You will be able to go up to the 86th floor observatory and enjoy the panoramic views from within a glass enclosed pavilion and from the surrounding open-air promenade. The tour also takes you to the United Nations where 192 countries meet to discuss issues like human rights and achieving world peace. You will also see Rockefeller Center which is home to NBC studios, outdoor skating rink, and the famous Christmas tree which has delighted crowds for over 75 years. The bus tour also takes you through Fifth Avenue NYC which is ranked as one of the most expensive streets in the world. You will also see the historic and just renovated Intrepid Sea, Air, and Space Museum. You will also visit the "Crossroads of the World" at Times Square. Hotel in Philadelphia.
Hotel: Hyatt Regency, Crowne Plaza Cherry Hill or similar
Day 4
Philadelphia - Washington D.C.
In the morning the bus tour will visit Philadelphia. You will visit Independence Hall where George Washington was appointed commander in chief of the Continental Army, the Declaration of Independence was adopted in 1776, and the U.S. Constitution was drafted in 1787. You will also see the Liberty Bell which has been a symbol of liberty for over 200 years.
The bus tour will then take you to the nations capital; Washington D.C. Here you will visit the Lincoln Memorial which is in the form of a Greek temple and contains a large seated sculpture of Abraham Lincoln and inscriptions of two well-known speeches by Lincoln. You will also visit the Jefferson Memorial which is dedicated to Thomas Jefferson, an American Founding Father and the third president of the United States. The tour also takes you to the National Museum of Natural History which is part of the Smithsonian Institution and is the worlds finest museum and research complex. The Museum is dedicated to stimulating curiosity, discovery, and learning about the natural world through its unmatched research, collections, exhibitions, and educational outreach programs. You will also see the White House which is one of the worlds most famous building and is the residence and workplace for the President of the U.S. The tour will also take you to the Vietnam Veterans Memorial which was designed by Maya Ying Lin and honors members of the U.S. armed forces who fought in the Vietnam War and who died in service or are missing.
Hotel: Marriott Gaithersburg or similar
Day 5
D.C. - Corning Glass Center - Niagara Falls
In the morning the bus tour will depart from Washington D.C. and travel to Corning, New York to visit the Corning Museum of Glass which is the largest glass museum in the world with more than 45,000 objects from over 3,500 years of glassmaking history. You will also see live, narrated glassmaking demonstrations.
Afterwards the bus tour will take you to Niagara Falls. The Falls is collectively made from the American Falls, Bridal Veil Falls, and the Canadian Horseshoe Falls and are famous for their beauty and as a valuable source of hydroelectric power. In the evening you can enjoy breathtaking views when the intense spotlights shower the falls with different shades of rainbow colors. The Falls is also a place where many couples come to admire the beauty of the falls while enjoying a romantic evening.
Hotel: Hyatt Regency, Hotel Indigo or similar
Day 6
Niagara Falls - Boston
In the morning the bus tour will see the spectacular views of Niagara Falls up close. A ride on the Maid of the Mist boat ride (seasonal) will soak you as you explore the roar of the Falls. This historical ride is a half hour thrill of a lifetime and is North Americas oldest tourist attraction as millions of visitors have enjoyed the boat tours since 1846. You will also go to the IMAX Theatre to experience the Falls like never before. Here you can see "The Falls Movie: Legends and Daredevils" - one of the most spectacular IMAX movies of all time. You will sit in a giant six-story movie screen and feel the power of 12,000 watts of thunderous digital surround sound where you can see behind the mist, myths and mysteries of one of the most storied natural wonders of the world. Afterwards, the bus tour will travel to the historic city of Boston which is the capital and largest city of Massachusetts and also one of Americas oldest cities, with a rich economic and social history. Upon arrival you will be able to feast on a delicious lobster dinner.
Hotel: Crowne Plaza Boston North Shoe or similar
Day 7
Boston city tour - Airport
IIn the morning the bus tour will continue the city tour of Boston with a stop at Harvard University; the oldest university in the United States. You will also visit Massachusetts Institute of Technology (MIT); a world-class institution that educates students in science and technology. The tour will also take you to the Massachusetts State House which is the magnificent setting for their state government for over two centuries has become an outstanding museum reflecting the history of Massachusetts since colonial times. You will also enjoy the shops and foods at the Faneuil Hall Marketplace, also known as Quincy Market which is set around a cobblestone promenade where jugglers, magicians and musicians entertain the passers-by. Afterwards,
Guests departing our tour from Boston should arrange for flights out of Logan Airport after 1:30 pm. Otherwise, the tour returns to New York, where departing guests should
arrange for flights out of New York area airports after 7pm
.
After the tour finishes, this tour concludes in Boston where guests can schedule their flights to depart from NYC Airport (EWR, LGA or JFK Ariprot) after 7:00 p.m.
(Please schedule flights to depart from NYC airport (EWR, LGA or JFK Ariprot) after 7:00 p.m.)
*** Tour route may be changed and reversed; you may contact us 1-2 days prior departure to confirm final itinerary.
Maid of the Mist Available from April to Oct 24 (Opening date depends on ice condition in the River)