* Child (ages 0–9)
Available: Mon, Wed, Fri
Transportation as per itinerary via deluxe motorcoach or minibus.

Passenger insurance while on board motorcoach.

Hotel accommodation which based on two adults sharing one bed room. (Double, Triple, Quad occupancy), excluding child fare.


Child rates apply to those 0-9 years and using existing bedding with 2 full-paying passengers (regardless of ages). Please bring car seats with you for your infants during the tour.



Tour taxes, Travel insurance and all charges arriving from deviation.

Admission packages or passes to attractions.

Personal charges such as travel document and visa fees.

Baggage handing fees, phone calls,
room service, movies etc.
Meals (breakfast, lunch, dinner) and
tips for waiters or waitresses.

Service fee for Escort/Tour Guide and Driver: Children and Adults apply: It is minimum of

$8 per person/per day

Holiday/Weekend Hotel surcharges may apply.
| | | | | |
| --- | --- | --- | --- | --- |
| | | Adult | Child | |
| Indian show | | $20 | $13 | |
| Whirlpool state park and Old fort niagara | | $25 | $25 | |
| Watkins Glen | | $10.00 | $10.00 | |
| Maid of the Mist | | $17.00 | $10.00 | |
| IMAX | | $12.00 | $8.00 | |
| Corning Glass Center | | $16.00 | FREE | |
Single price is for one people staying in one room. Double, Triple & Quad prices are for two people , three people & four people staying in one room respectively.

Child rates apply to ages 0-9, please note each hotel room can only accommodate 4 guests (adults or children). Each guest rooms are standard with "two" full sizes or "one" queen bed.
All customers should be responsible for their own travel documents and visa if required.
All hotel and tour schedules are arranged before hand. Any person failing to appear on the day of departure shall not be refunded.
Other tour company's product or on line tickets (Admissions or Entrance fees) are not to combine with our already low cost tour package.
Customers are advise to purchase travel insurances before departure of their tours. Please ask one of our specialists for more information.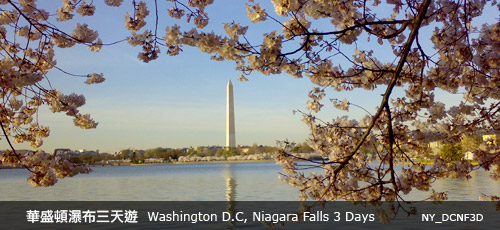 Niagara Falls, Watkins Glen, Howe Caverns, Washington D.C. 3-Day Tour
Day 1
New York - Howe Caverns - Niagara Falls (Night Tour)
Departing from New York, we head for the Howe Caverns in Upstate NY. Here, our journey will wind us through limestone corridors, cavernous galleries, and under massive boulders to a subterranean riverbed carved over countless millennia. Deep in the cave, solid rock appears fluid: creating strange formations, flowing sheets and dripping stalactites. Mysterious grottos lead off into distant, unexplored passages path twists and turns ever downward to the glassy surface of an underground lake that trails off into the absolute darkness of the cave's Eastern Terminus.
After sunset, Night tour is one of the most awe-inspiring Niagara Falls tours available to the public, as a rainbow of colors illuminates the Falls showering down from above.
Standard Hotel: R.I.T in Rochester or similar
Day 2
Niagara Falls - Power Vista - Old Fort Niagara* - Watkins Glen
We will continue the next day with tours of Niagara Falls, including a visit to IMAX Niagara Falls. Home to "The Falls Movie: Legends and Daredevils," the IMAX provides a glimpse into the stories of the courageous few who dared to climb into a barrel and tumble down the powerful Falls. The most powerful waterfall in North America, an average of 4 million cubic feet of water falls over the crest every minute. A historical boat ride aboard the world-famous Maid of the Mist offers up close and exciting views of the Falls (Apr to Oct).
We are going to the Power Vista, which is located 4½ miles downstream from Niagara Falls, set amidst the spectacular scenery of the Niagara River Gorge. You will also enjoy the incredible views 350 feet above the Niagara River in the comfortable environs of the glass enclosed walkway or feel the elements on the outdoor observation deck (weather permitting).
[$10.00 /Adult,$8.00/kid (under 11) shuttle bus services fee, and special upgrade operation costs.]
The tour then continues to the Watkins Glen State Park is one of the most famous and scenic place in Upstate New York. The amazing Gorge Trail winds 1.3 miles over 20 beautiful waterfalls; such as rainbow falls, chain falls, endless falls etc. There are also suspension stone bridge and spiral tunnel that crosses high above the gorge. It is registered as a National Scenic Trail in the US. It is one of the most photographed place in the North East.

[$10.00 /Adult,$8.00/kid (under 11) for shuttle bus services fee and State Park permit fee].
*Special Optional:
If time is availiable we will go to the Old Fort Niagara(optional), located at the mouth of the Niagara River. Be sure to catch the short guided tour that explains a lot in a short time. The fact that the old French Castle from 1726 is still standing today is amazing. The history and importance of this fort is a compelling reason to preserve it and the artifacts in the museum were spectacular. If you're a history buff or just like tours of this kind you have to see this.
After Nov (Depands on weather condition), Watkins Glen State Park will be closed, the tour will discover the most funniest attraction, Corning Museum of Glass (Winter) which is the largest glass museum in the world with more than 45,000 objects from over 3,500 years of glassmaking history. Our highlight visit is of curse to see the live, narrated glassmaking demonstrations. Next, we drive to Washington D.C. and make a stopover in Maryland.
Optional: Watkins Glen, Power Vista, Old Fort Niagara
Standard Hotel: Comfort Inn or similar
Day 3
Washington D.C. - Philadelphia - New York City
We continue to explore America's modern day history in Washington D.C. by touring Capitol Hill, the Senate Building and the White House. We will also visit the Natural History Museum (optional), the Air and Space Museum before heading to the Lincoln, Jefferson, and Vietnam Memorials. We will also tour the Korean War Veterans Memorial. We are heading to see the now silent Liberty Bell echoing history in its newly renovated home at the Liberty Bell Center. Stroll through the centuries old Independence Hall and Congress Hall, the foundation for modern democracy and the birthplace of both the Declaration of Independence and the Constitution.