* Child (ages 2–9)
Available: Sat
Transportation as per itinerary via deluxe motorcoach or minibus.

Passenger insurance while on board motorcoach.

Hotel accommodation which based on two adults sharing one bed room. (Double, Triple occupancy), excluding child fare.


Due to Motorcoach Insurance Policy, passengers over 3 years of age must purchase ticket in order to occupy seats.



Tour guide: Chinese speaking tour guide only.
Tour taxes, Travel insurance and all charges arriving from deviation.

Admission packages or passes to attractions.

Personal charges such as travel document and visa fees.

Baggage handing fees, phone calls,
room service, movies etc.
Meals (breakfast, lunch, dinner) and
tips for waiters or waitresses.

Tipping for Escort/Tour Guide and Driver: Children and Adults apply: it is suggested to each passenger to pay gratuity (tips) for Escort/Tour Guide and Driver for the courteous service provided on the tour. It is recommended that a minimum of

€5 per person/per day (€3.0 for Escort/Tour Guide, €2.0 for driver).

Holiday/Weekend Hotel surcharges may apply.
| | | | | |
| --- | --- | --- | --- | --- |
| | | Adult | | |
| Venice City entrance | | €10.00 | | |
| Florence City entrance | | € 5.00 | | |
| Rome City entrance | | € 5.00 | | |
| Colosseum | | €10.00 | | |
| Italian Spaghetti Menu | | €20.00 | | |
| Gondola | | €25.00 | | |
Single price is for one people staying in one room. Double, Triple prices are for two people , three people staying in one room respectively.

Child rates apply to ages 2-9, please note each hotel room can only accommodate

3

guests (adults or children). Each guest rooms are standard with "two" full sizes or "one" queen bed.
All customers should be responsible for their own travel documents and visa if required.
All hotel and tour schedules are arranged before hand. Any person failing to appear on the day of departure shall not be refunded.
Other tour company's product or on line tickets (Admissions or Entrance fees) are not to combine with our already low cost tour package.
Customers are advise to purchase travel insurances before departure of their tours. Please ask one of our specialists for more information.


Please do not book any airline tickets until you receive the status of your booking.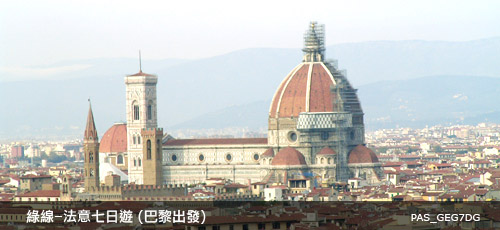 GL - France and Italy 7 Days (Paris)
Day 1
Saturday: Paris - Lucerne (650 km)
Today we will drive ahead from Paris to Switzerland, During our drive to Switzerland, we will travel through France and Germany, prior to driving through Basel , Switzerland . We will arrive in Lucerne in the early evening and overnight in Lucerne or in a city nearby.
Day 2
Sunday: Lucerne - Milan - Verona - Venice (400 km)
After breakfast, drive to the world's famous fashion city - Milan . We enjoy the orientation tour including Sforza Castle , further the gothic Duomo , the 19 th century Galleria Vittorio Emanuele II and the "La Scala" opera house . After enjoy the gorgeous architecture, drive takes us to Verona, a city full of historical building, and romance... We will enjoy the orientation on foot, including the Roman amphitheatre - Verona Arena , passing the most relaxing small streets, we will visit the setting of the story of Romeo and Juliet, the short passageway leading to the balcony is covered with slips of paper carrying their graffiti. Then we are transfer to Venice , the "city of canals". We stay and overnight in Mestre or a city nearby.
30030 Mestre-Campalto-Venezia
Day 3
Monday: Venice - Rome (550 km)
After breakfast, waterbus will take us along the canals past many marvellous architectures and churches, to San Marco Square. here we will see the Basilica di San Marco, one the best known example of Byzantine architecture, also we will see The Bridge of Sighs, connects the old prison to the interrogation rooms in the Doge's Palace. Then after witnessing a demonstration of Murano glass-blowing. Perhaps a gondola ride to the Grand Canal would be hard to resist. In the afternoon, transfer to Rome or nearby city for overnight.
Day 4
Tuesday: Rome - Vatican - Florence (280 km)
After breakfast, we will be transfer to a tiny sovereign state, heading to the largest Church in the smallest country in the world, St. Peter's Basilica in Vatican, built as a great basilica by Emperor Constantine in AD 324 after he officially recognized Christianity, rebuilt construction started in the year 1506 and was completed in 1615, the basilica in itself is an artwork composed of many artistic elements by many famous architects and artists included. After lunch, we will enjoy our sightseeing includes The Coloseum, built in the year AD72 for the gladiatorial combat against each other or animal to the death; The Arch of Constantine, The Pantheon, which was originally built as a temple to all gods, but has been a Christian church since the 7th century. Then why not make a wish at the Trevi Fountain like the film "Three coins in the Fountain", and enjoy the relaxing tour at Spanish Square. Later, transfer to Florence or nearby for overnight.
Area Di Servizio Firenze Nord
Day 5
Wednesday: Florence - Pisa - Genoa (550 km)
After breakfast, we visit around Florence, the city is often considered the birthplace of the Italy Renaissance, and famous for fine art and architecture. After enjoy the panoramic view from Piazzale Michelangelo, a sightseeing tour on foot features the Ponte Vecchio over the Arno River, Duomo and Campanile Tower (by Gitto), and also Uffizi Gallery , one of the finest art galleries in the world. After the sightseeing, why not find your favourite leather goods in your leisure time, as the Italy famous leather industry was originally built in here. Later, drive will take us to Pisa, enjoy an orientation on foot and photo at the Leaning Tower,. Also the site of the beautiful Duomo (the Cathedral) and the Baptistery. After, transfer to Genoa or a city nearby for overnight.
Day 6
Thursday : Genoa - Monaco - Nice - Cannes - Avignon (450 km)
This morning we will take our journey along the Mediterranean Sea to Monaco, enjoy the breathtaking scenery and visit a small country with big attraction, with visiting the grand palace and famous casino in Monte-Carlo. Then a brief stop at Nice for short orientation. Later we drive to Cannes with passing by a famous perfume town, also include a visit to the Fragonard Perfume Factory. After the fragrant trip, we will Cannes, which has given out the most prestigious film award here, stop for a photo at the Palais des Festival and enjoy a relaxing near the beach. Tonight we stay in Avignon or a city nearby for overnight.
2968 Avenue de l'Amandier
Route de Marseille,84000 Avignon
Day 7
Friday: Avignon - Paris (700 km)
Our day begins with a drive direction to Paris, enjoying the drive across the beautiful scenery and go into Italy. At night we arrive Paris and finish 7-day tour.